Media Kit
Book: Wanderings and Sojourns book 3, "The Songs and Verses"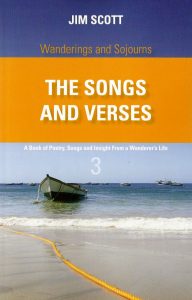 Written as the third of the "Wanderings and Sojourns" series, favourite poems and songs that form part of the first two volumes are combined with many others not previously published to form the 80 works in this collection spanning four decades of the author's travels.
Covering many disparate themes are experiences and philosophies earned from an addicted wanderer's unusual life embracing everything from war to love, ocean to forest, death to life, sorrow to humour with insight that delves deep into the heart of each subject, and at times into the heart of the reader who will be drawn to seek personal parallels as the words, as poetry should, disturb emotions of their own.
Available at selected book stores; on-line from Friesen Press, Amazon, Chapters, Indigo, Barnes and Noble and in Kindle.
About the author: Jim Scott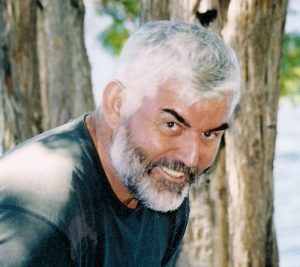 Born in England, raised on the banks of a river in the Sussex countryside, Jim, from a young age developed strong spiritual connections with the natural realm.  Not understood until much later in life this realization provided a catalyst and explanation for his unusual philosophies born from his many travelling years that didn't tie-in with much of mainstream thinking.
Working with the natural realm in a variety of occupations on sea or land developed a profound respect for the balance of how life is meant to be within the natural wisdom that governs the planet.  This respect is presented in his writing where, not shy to criticize what he considers the artificial worlds of cities, industry and reliance upon financial success, he champions  environmental causes, bucolic lifestyles and indigenous groups yet following the Old Ways of natural balance.
Having travelled to over 70 countries where many of his sojourns were significant enough for adventures to be lived and philosophies developed, his experiences among such disparate cultures, landscapes, politics and economies lend themselves perfectly to the stories and verses of his books.
A father of three, Jim now lives in Ontario, Canada, and spends as much time as possible in the British Virgin Islands where two of his children were born and where he yet feels most at home.
 What readers have said about the book.
"WOW!!!!!  You just solved all my Christmas shopping problems….. These are perfect.  I'll take seven……"  ….. Canada
"It's terrific!" ….. England
"Bought your book today for Kindle through the UK Amazon. ……. Funny how you can imagine yourself in some of them [poems] so easily. Definitely enjoying them, just want book 1 & 2 now!" ….. Bahrain 
"It is a lovely "pick up and read" book that can be read over and over again." …..England
"Each is a "beautiful" story.  ("beauty" does not mean that the situation was beautiful, but the way you are telling it)  I appreciate your trust in us readers.  Your honesty about your feelings is highly valued." ….. Canada
"After reading your words I feel humbled…… Suffice to say at this stage – Brilliant!" ….. England
Q and A:
How long did it take to write the book?
There's at least a couple of poems written in my late teens with the others spread out between then and now, so it's safe to say this has been in the works for over 40 years.
How long does it take to write a poem?
Each one is different.  The one's I like best seem to write themselves and happen very quickly, as if they were waiting somewhere to be put onto paper.  But even so, a poem, like many works of written art, is never truly finished. The writer sees "tweakages" every time he reads it and has to exercise discipline not to keep making changes.  Others I start seem to be going nowhere, so I put them in an "under construction" file and sometimes, years later, I see the way forward to their completion.
From where does the inspiration come for the poems?
Mostly from my own experiences but many are also created based upon observations of other people, events or scenes or creating "what-if" scenarios in my mind and converting the outcome to verse.  So some are fact and some are fiction, but even the fictional ones are often based on real events or people that inspired the creative process.
How did you learn to write Poetry?
Like almost everything else I've done in my life; just by doing it.  I've never studied the technical aspects of lyrical verse other than reading the works of others, looking at the structure and seeing why what seemed to work where.  I've never been taught or attended any workshops.
Why do you prefer calling your work lyrical verse, not poetry?
There are several other styles that also come under the poetry banner with which I'm not comfortable.  Like paintings where some artists may be impressionists, others paint abstract and others present photograph like images.  So too with poems where there is open verse, haiku, slam, rap, etc.  I'm only really comfortable writing in the medium of lyrical verse and shy away from describing my work as poetry for there are so many varieties of that I cannot do.
The title, "Songs and Verses"; what's the difference between the two?
In many aspects of lyrical verse there's not much.  In fact several of my poems, much like Kipling used to with some of his, are written to tunes I think capture the essence of what I'm endeavouring to write.  Others have been put to music by various musicians and I'd very much like to collaborate with composers to create works that stand up both musically and poetically.  That said, there are some forms of lyrical verse where the stresses are deliberately irregular, or the theme just doesn't lend itself to music, for which I think it best not to try to create a melody.
This is book 3 in the Wanderings and Sojourns series. Are books 1 and 2 also lyrical verse?
Partly.  The first one "On 5 Continents and 3 Oceans" comprises 25 true stories and essays from my experiences around the world, coupled with 25 poems.  Book 2 "On Tropical Islands and Sparkling Seas" has the same format but the stories are centred on my sailing and Caribbean years.  Book 3 actually was an afterthought.  I only planned to write the books 1 and 2 but as people started reading sections of them I was encouraged to produce a book solely of lyrical verse as well.  Because the poems were already written book 3 was completed and published before what were intended to be its predecessors.
The book encompasses four decades of work.  Has your style or the way you think out the same subjects changed much over that time, and is this recognizable in the work?
I think I have become more realistic in the way I view things as I have aged, and that has to be reflected.  And of course I have learned different techniques and effects the more I wrote, so yes; I'd say the earlier works tended more toward shorter simpler structure and perhaps more superficial themes and reflections, and there was a steady progression to deeper and hopefully more skilful writing thereafter.
Are the poems laid up in chronological order, or sectioned by theme?
No.  In keeping with the tenet of the series they are random, just as my travels were mostly random based upon whatever seemed to be a good idea at the time.  To illustrate just how unpredictable those travels were, I have never yet reached a country which I made a long term plan to reach, and all the countries in which I lived I never meant to do so until largely unplanned circumstances took me there.  So the books deliberately reflect the somewhat wayward course the life that inspired them has taken.
Are there more books in the pipe-line after this series is finished, or is this it?
There is a large environmental novel that incorporates some ancient Anishinaabe prophecies that is already written but awaiting some serious editing.  I'll be blowing the dust off that one when the series is finished.  I am also looking at a coffee table publication in collaboration with an excellent British photographer combining some of his pictures with my verse, and beyond that there is even thought of a book four in this series.  I look upon this as my retirement career so reckon that as long as I can write, I will.
Fact Sheet:
Born 26/02/1953 in London, England.
Did not attend university, at 17 obtained deck apprenticeship in British merchant navy.
Next 5 years only in England while on leave
Age 22 left the merchant navy, left England and have never lived there since.
3 Children (one born Canada, two born British Virgin Islands
 Achievements
Founding Director Virgin Islands Search and Rescue (VISAR)
Foundin VP Rotary Club of Tortola II
2 Circumnavigations
Over 100,000 miles at sea
Helped found Kids and the Sea (KATS) BVI
Honoured by Lloyds of London for SAR and relief co-ordination work during/after Hurricane Hugo
Moderated in Canada All Candidates Debates at all 3 levels of Gov't
First private sector member of BVI National Emergency Advisory Council
Founded BVI Chamber of Commerce Disaster Response Committee
Hosted first public/private sector disprep conference in BVI
Honoured by BVI Governor for work with VISAR
 Countries/Territories of which stories/poems are written (and mentioned) in the series
England
Morocco
Portugal
Gibraltar
Rhodesia/Zimbabwe
Antigua
Montserrat
St Barths
Puerto Rico
St Lucia
Bahamas
British Virgin Islands
US Virgin Islands
USA
Canada
Peru
India
(South Africa)
(Botswana)
(Mozambique)
(Martinique)
(Guadalupe)
(Dominican Republic)
Top 15 Sojourns in descending order of longevity
British Virgin Islands
England
Canada
Gibraltar
The open ocean
South Africa
Portugal
Rhodesia/Zimbabwe
Morocco
USA
Antigua
Bahamas
Martinique
India
Peru